Problems with Buried Downspouts and How to Fix them
Buried downspouts are the best drainage solution that can prevent damage to basements or foundations caused by flooding in the yard.  However, if your gutters are installed incorrectly, you could be back to square one with your drainage issues. Today, I'm going to show you the most common problems with buried downspouts and how to fix them.
Here's an example of a home that had problems with buried downspouts due to:
No Pop-Up Emitter for Discharge
Not Enough Slope
No Catch Basin
Problem: Not Enough Slope Will Trap Debris
One of the biggest mistakes made with downspouts is not having enough slope. Buried downspouts don't need a huge slope to be effective, but even a 1% slope allows yard drainage to move through your system.
For example, if you go under a sidewalk and then you come up, you just create a sink trap for shingle gravel to be lodged. I mean, how's it going to get out of there?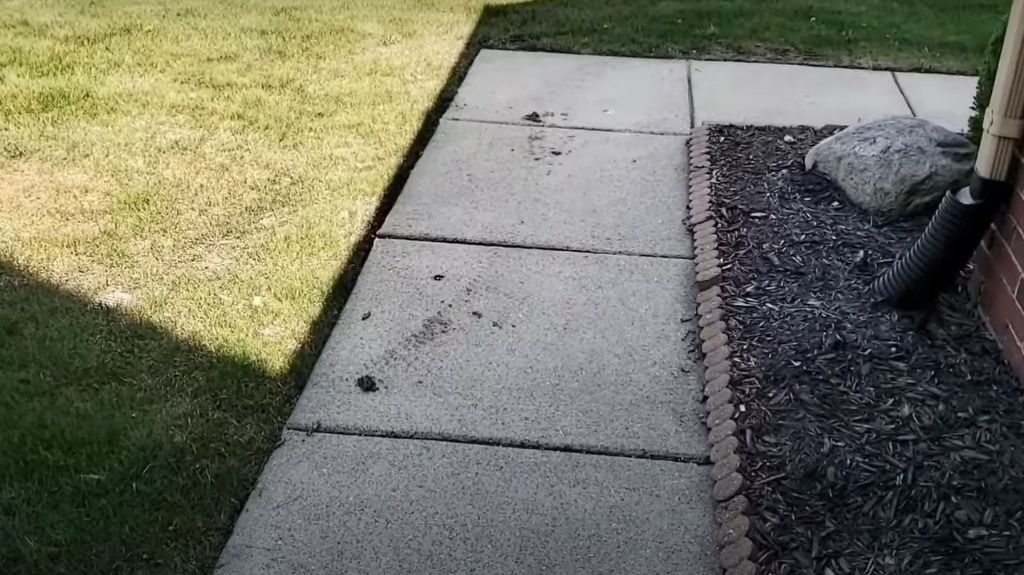 The downspout at this home goes underneath the walkway and comes right back up. They just put a four-inch grate for discharge, instead of a nice big pop-up that leaves can come out of. Setting up your buried downspout without enough slope or a pop-up emitter means you're going to trap organic material.
Solution: Slope and Pop-up Emitter Can Resolve Problems with Buried Downspouts
So how do we improve on this? This yard has a really good slope going out to the street. It was a bad decision to take the buried downspout to the side of the house where there was no slope.  Instead, we're going to take the buried downspout down towards the street to create some drop.
The downspout needs to go under the sidewalk, but instead of coming back up, it will stay down. Keep digging as the grade falls away, and then eventually daylight the downspout.
Now, the pipe will stay level and won't build up with debris or create a sink trap filled with shingle gravel. Just a nice gradual slope, an inline catch basin to shop vacuum the shingle gravel out of, and a nice popup that's easy to clean. That's the right way to set up your buried downspout.
Problem: Build-Up of Shingle Gravel Clogs Downspout
We're going to look inside the existing downspout at this home. The pipe holds its shape when it's been in a certain position for years. You can see how it's like a horseshoe shape. This shape traps debris in the pipe and there's no inline catch basin, so there's no way to get that debris out.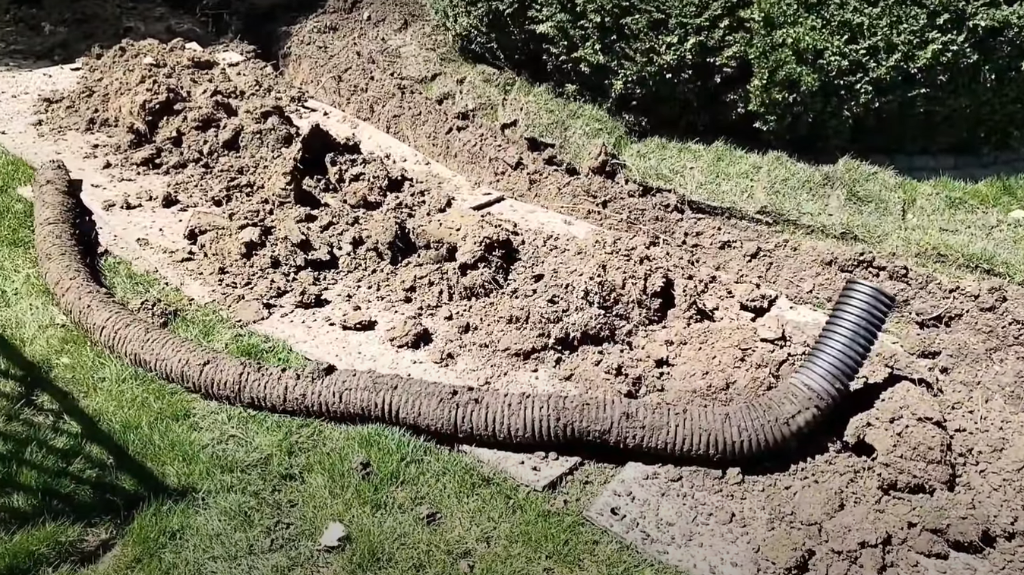 Not only was there no catch basin, but there was also no pop-up to provide an easy way to get inside.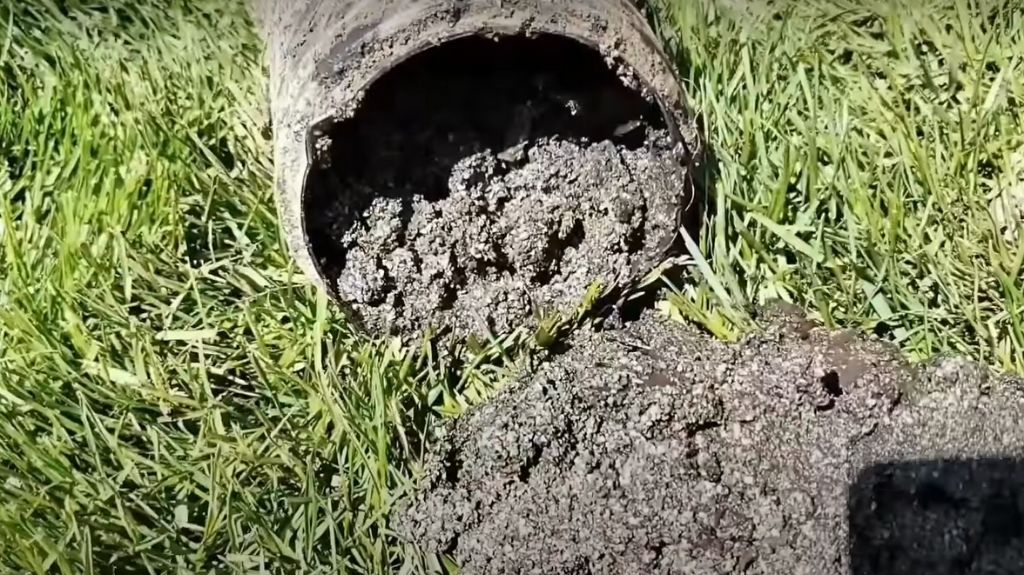 We cut the pipe open so you could see inside. It's full of solid shingle gravel.  This is what an older shingled roof will do as its aging and breaking down. As the roof deteriorates, it loses a lot of shingle gravel. After a while, the shingles break down, deteriorate, and the roof needs to be replaced.
Solution: Inline Catch Basin and Pop-Up Emitter Can Prevent Problems with Buried Downspouts
It's imperative that buried downspouts are installed with a yard drain basin and pop-up emitter that you can open and clean out. The existing buried downspout at this home did not have an inline catch basin or pop-up emitter. Missing these critical elements was made worse by the buried downspout not being installed on a slope. These are the most common issues we see during an underground buried downspout system installation.
Unfortunately, the corrugated pipe gets a bad rap when installed improperly. The flexible characteristics of corrugated pipe allow people to create a horseshoe shape instead of digging deeper to create a slope and prevent that U shape.
We put in inline catch basins that can fill full of shingle gravel. It's super easy to just take the four-inch grate off and put a shop vacuum in. We do the cleanouts up at the house. Your buried downspout can now be easily cleaned by putting a garden hose in and flushing the system clear of debris.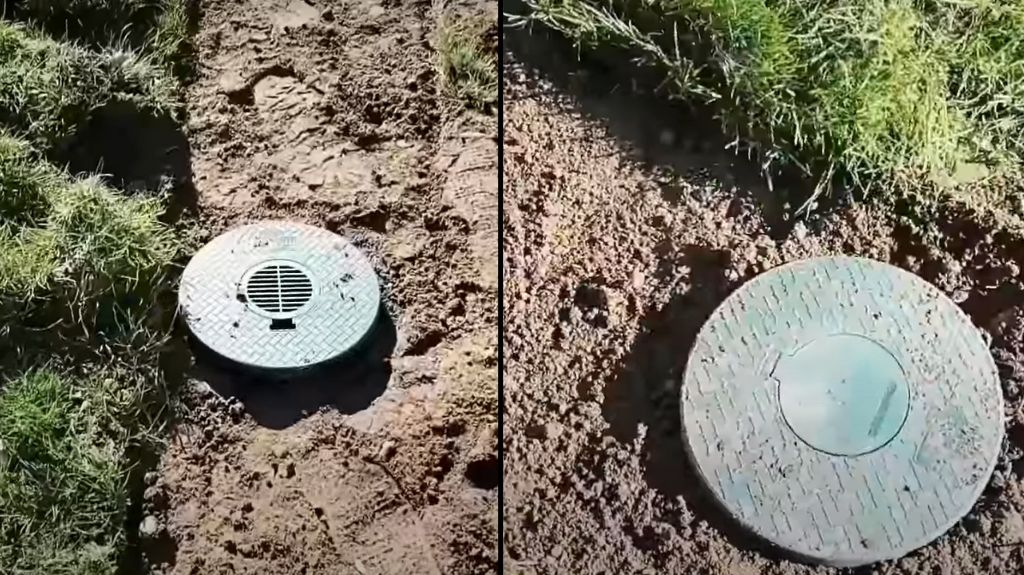 Now, you have an inline catch basin that you can shop vacuum out. This is why we go so far out into the yard when installing buried downspouts. We create the drop that we need to get everything to run clean through the system. And of course, you also have a pop-up that you can reach your hand inside to clean.
Results that Speak for Themselves
It may take more work to install your buried downspout correctly, but the results speak for themselves. Correct installation is the difference between having a roof runoff system that lasts forever and a system that's going to fail you.
Buried downspouts that don't work properly due to incorrect installation can cause a flooded basement or crawlspace. To fix it, you would have to redo the system because you didn't put an inline catch basin, a cleanout at the house, or a popup emitter that you can get your hand in. We see it all the time. This is why we put in all that extra effort to installing buried downspouts the right way the first time. Installing a roof runoff system the right way saves homeowners headaches down the line.